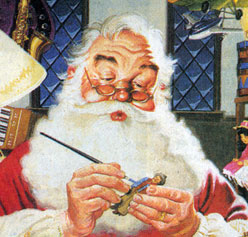 Image taken from: http://www.hembeck.com/More/SantaHeads.htm
As we get closer to completing our Santa Clause projects, I think we need a means to identify what they are for our fellow Clausers. When you mail your package to your target, lets add "SC" into their name so that they know they received their Santa Clause gift and not just something else that they happened to have ordered and promptly forgotten about. For example, the name should be listed as "Bob SC Hope". This will give us the opportunity to place it under the tree with the care that it deserves.
Fantastic idea, isn't it? I completely ripped it off from Ian's Secret Santa project. Its a wonderful idea. Too good not to steal.
I hope everyone is making good progress. Its less than 60 Days till Christmas.